This domain is for sale > Contact

Motorcycle Tours South Africa on a Harley-Davidson
Experience the special African wildlife from the seat of a Harley-Davidson motorcycle and gain many more impressions of this beautiful country. A Harley-Davidson road trip through South Africa is a unique experience - let us take you on a voyage of discovery.
Watch the "Big Five" in the wild at the major tourist highlights of South Africa in the wildlife reserves: Lions, elephants, rhinos, buffalos and leopards, as well as many other African animals such as zebras and giraffes, which you normally only can see in the zoo. On your motorcycle tour in South Africa you will even spend one night in a game park and experience pure campfire romantic. Visits to the Knysa National Park and the Addo Elephant Park are also scheduled and so you can get up close to the African animal world. You can even ride an ostrich in Oudtshoorn in exchange of your Harley-Davidson against a different type of transportation.
In addition to the exciting wildlife, you will get to see unique landscapes in South Africa. Starting in Cape Town you will head towards the Cape of Good Hope with your Harley-Davidson motorcycle, explore wine growing areas and ride along the coastal road Chapman's Peark Drive - each motorcyclist should have driven that road once in his life. You might even see penguins or whales in the wild, when you reach the southernmost point of Africa, Cape L'Agulhas.
In Port Elizabeth, you leave the coastal road and cruise inland in the Great Karoo back to Cape Town through amazing landscapes. On of the highlights is cruising on Route 62, which is known as South Africa's Route 66, before you arrive in the region of Cape Town. After a wine tasting in one of the well-known vineyards of Stellenbosch, your motorcycle road trip through South Africa ends the next day in Cape Town.
Are you playing golf? If yes, there is something special for you: Harley + Golf in South Africa, where you can combine playing golf and Harley-Davidson riding.
* HARLEY-DAVIDSON, HARLEY, H-D, HD, HARLEY-DAVIDSON AUTHORIZED TOURS and the Bar & Shield logo are among the registered trademarks of H-D U.S.A., LLC. Reuthers is a registered trademark of REUTHER-ENTERTAINMENTS.
We now invite you to choose from the following Dream Tours we have put together for You:
Wild Garden
South Africa at the southern tip of the African continent is like a huge wild garden full of natural beauty just waiting to be discovered. Our Wild Garden Motorcycle Tour through South Africa takes you to the most beautiful places...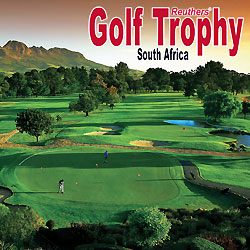 Harley + Golf
You cannot decide, whether you want to play golf or ride a motorcycle on your vacation? Do both! With our unique Harley + Golf Motorcycle Tour in South Africa you can combine both hobbies...
Find your Dream Tour: